Pupil Premium at Pakeman
We have high aspirations and ambitions for our children and we believe that no child should be left behind. We strongly believe that it is not about where you come from but your passion and thirst for knowledge, and your dedication and commitment to learning that make the difference between success and failure, and we are determined to ensure that our children are given every chance to realise their full potential.
Background to Pupil Premium Funding
The pupil premium is a  government initiative that targets extra money at pupils from deprived backgrounds. Research shows that pupils from deprived backgrounds underachieve compared to their non-deprived peers. The premium is provided to enable these pupils to be supported to reach their potential. The Government has used pupils entitled to free school meals (FSM), looked after children and service children as indicators of deprivation, and have provided a fixed amount of money for schools per pupil based on the number of pupils registered for FSM over a rolling six year period. This fixed amount of money is expected to increase every year for the course of this current Parliament. At Pakeman we will be using the indicator of those eligible for FSM as well as identified vulnerable groups as our target children to 'close the gap' regarding attainment.
Our Approach
Money has been ring-fenced and used to benefit all pupil premium pupils. We have established clear lines of responsibility with a member of the senior leadership team and a link governor taking responsibility for Pupil Premium.
At Pakeman our high proportions of FSM children have meant that our pupil premium money has represented a significant proportion of our budget and we have planned our spending carefully to ensure that it has been spent to maximum effect. This has meant making informed decisions about our spending such as:
Ensuring that spending is directly linked to gaps in attainment;
Making use of our own data to expand existing interventions;
Making sure there is at least good teaching in a day to day basis;
Making use of research when evaluating interventions and considering the implementation of new interventions.
All staff are aware of areas for development in the school in terms of subjects, year groups and they know which children are focus children.
Money is used to benefit all pupil premium children and supports higher as well as lower ability children by extending provision on offer.
We have revised our assessment and monitoring systems to support improvement in the quality of teaching and interventions in order to maximise impact. Our team leader system enables us to be more responsive and frequent support such as team teaching, planning, one to one training and CPD.
Latest Spending
Since the pupil premium funding was introduced we have seen a marked improvement in outcomes for our children. We are not sitting on our laurels but continue in our drive for pupils to do even better by tackling any within school variance, developing the roles of middle leaders and looking for ways to increase learning time. Here are our latest spending plans:
Pakeman Pupil Premium Strategy 2022.2023
Pakeman Pupil Premium Strategy 2021.2022 evaluated
Pupil premium strategy report 2021.2022
Pakeman Pupil Premium Strategy 2020-21
Pakeman Pupil Premium Strategy 2019-20
Pakeman Pupil Premium Strategy 2018-19
Pakeman Pupil Premium Strategy 2017-18
Recognition of Success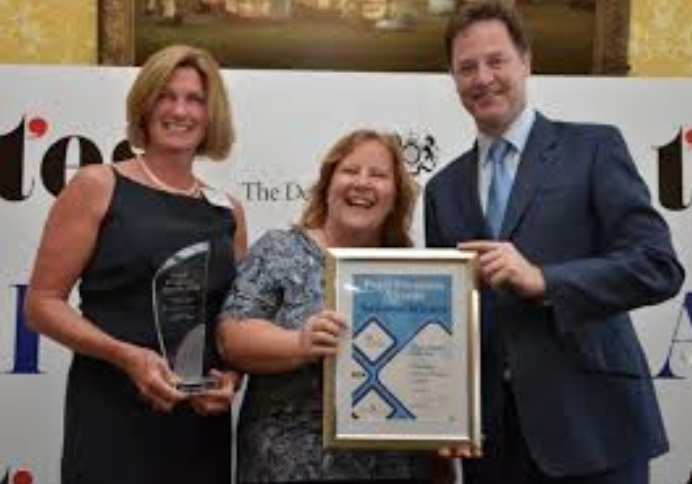 In 2013 we were delighted to be named as National Primary School of the Year in the Pupil Premium Awards for raising attainment of our disadvantaged pupils, with Nick Clegg commenting:
This (award) is wonderful testament to the excellent work that you and your staff have been doing to boost the attainment of disadvantaged pupils through your use of the Pupil Premium. Among other features, the judges were impressed by your school's investment of time to examine research evidence to help you design your interventions, and by your well-developed evaluation and monitoring systems.
Lynne Gavin, Headteacher of Pakeman Primary School in Islington, named Primary School of the Year at 2013's awards, said:
Winning this award has been absolutely fantastic for us at Pakeman. It reflects and recognises the hard work and dedication of our amazing and dedicated staff who are determined to provide our children with the best possible education to improve their life chances.
TEACH Magazine Article October 2013
Over the last couple of years things have changed for the better at Pakeman, and it hasn't been the money alone that has made the difference. But if Nick Clegg were to seek proof that one of his party's flagship policies was having its intended impact, he needn't look any further. The judges of the 2013 Pupil Premium Awards certainly didn't, awarding the school their 'Primary School of the Year Award' at the beginning of July in recognition of the effect its spending has had on children and parents.
And there has been no shortage of spending, the 2012/2013 academic year saw Pakeman receive just shy of £140,000. This year, that figure has risen to £220,000, prompting Lynne and her team to return to the wish list as they expand their efforts to respond to the significant educational and social issues that pass through the gate every day.
Of course, the reality of the Pupil Premium is that the more you have to spend, the more you're likely to have to spend it on, and the real story at Pakeman is not the amounts involved but the holistic approach that is translating money into meaningful results: in purely academic terms, in 2012, 94 per cent of KS2 children at the school achieved a combined Level 4 in English and maths, and 100 per cent made two levels of progress. But reducing the equation to percentage points seems to rather under-value the work staff are doing to open children's minds to the world around them, and support their parents to continue the good work at home.
Pakeman in the News
Pupil Premium Case Study (DfE)
Support for Other Schools
We have been providing support for other schools through visits to local authorities, courses and individual school reviews.
We are delighted that our reviews have been included in the latest guidance developed by the Teaching Schools Council working with Sir John Dunford, National Pupil Premium Champion.