English
"English is the language of the future, the most important tool you'll ever need, no matter what career you choose. You have the right to English. Make it your right!" (Benjamin Zephaniah)
Vision
The ability to communicate through speaking, reading and writing is a vital skill for all children, paving the way for an enjoyable and successful school experience and preparing children for life.
Speaking and Listening
'Speaking and Listening' is the ability to be able to communicate effectively. Almost everything we do involves speech, language and/or communication. Everyday tasks, learning, sorting out problems, having a conversation, getting a job, making friends and having fun all rely on our ability to communicate.
At Pakeman, we support children to become more confident communicators through:
Discussion and debate
Performing and presenting for an audience
Expressing and articulating feelings, opinions and ideas
Modelling correct spoken language
Expanding vocabulary
Children will be taught to speak clearly and convey ideas confidently using Standard English. They will learn to justify ideas with reasons; ask questions to check understanding; develop vocabulary and build knowledge; negotiate; evaluate and build on the ideas of others; and select the appropriate register for effective communication. They will be taught to give well-structured descriptions and explanations and develop their understanding through exploring ideas. This will enable them to clarify their thinking as well as organise their ideas for writing.
Reading
The ability to read and understand written information to a high standard is an essential skill in life. At Pakeman, our aim is not only for all children to develop the key skills they need but to foster a love and passion for language and literature and encourage imagination, curiosity and new interests and outlooks. We support children to:
Become fluent, independent and reflective readers
Read a wide variety of genres
Develop a broad range of reading skills
Use texts to broaden vocabulary
Phonics
Phonics is the systematic teaching of the sounds, or 'phonemes', that accompany the written letters ('graphemes') in English. It is designed to teach children to become confident and fluent readers by the end of Year 2. All children in Early Years and Key Stage 1 have daily phonics sessions where they are introduced to new sounds and practise the sounds that they are familiar with. At Pakeman, we use 'Essential Letters and Sounds', a systematic synthetic phonics programme.
Click here to see our phonics programme – Essential Letters and Sounds
Year 1 phonics screening check
At the end of Year 1, children will undertake a statutory phonics screening check. This is a short assessment to make sure that children have learnt phonics to an appropriate standard. There are 40 words in the screening check which children are asked to read on a one-to-one basis with their teacher. The check is made up of 'real words' (eg. 'mud') and 'non-words' (eg. 'splog') and children need to apply their phonic knowledge to read all words. Preparation for the check takes place during the daily phonics session, but parents/carers can help children by practising phonics on a regular basis.
For more information on the phonics screening check for Year 1 children, please click here.
Here are some phonics videos developed with our children:
Daily Supported Reading and Big Read
Daily Supported Reading is taught 4 days a week in key stage 1 in 9 small groups. This explicitly addresses the skills children need to become successful readers. In the sessions, children are taught the decoding of words and the skills needed for fluent and expressive reading.
Big Read is taught from year 2 to 6 and focuses more on comprehension and inference. By the end of Key Stage 1, all children take part in whole class reading sessions, which we refer to as Big Read. These sessions provide children with opportunities to independently read a variety of challenging texts which reflect our rich and varied literary heritage and further develop and practise the full range of reading comprehension skills.
The Power of Reading
We teach literacy daily as a discrete subject from Year 1 to Year 6, following the National Curriculum, with opportunities for Literacy in the Foundation Stage being incorporated into the child's day according to the principles of the Early Years Foundation Stage (EYFS). Through the Power of Reading, we use high quality texts and creative teaching approaches to engage and motivate children in their literacy learning, to support children in deepening their understanding of texts and provide them with a meaningful context for writing.
Additional Reading Support
Whilst every effort is made to ensure that children develop the necessary literacy skills within a whole class context, it is sometimes necessary for children to be provided with additional support. In reading, this support is provided through:
Voluntary readers – Beanstalk and Bookmark
Tutor-mate – online reading sessions
1:1 and small group reading interventions
Action Tutoring (years 5 and 6)
Reading Resources
We believe that the development of reading is enhanced by the provision of high-quality reading materials. At Pakeman, we ensure that there is a broad and rich range of books available for all children in classes, in our library and for home reading.
Home Reading
Home reading is an important part of children's reading development. Children are encouraged to read at home every day and we provide good quality, exciting texts in order to inspire a love of reading and to engage parents/ carers in children's learning. Home reading is carefully monitored through the use of personal reading records and any lack of home reading is followed up through parent/ carer discussion and additional reading intervention.
Click here for ideas on supporting reading at home.
School Library
In the last few years, we have purchased over £30,000 worth of new books and the library has really helped to raise the profile of reading in the school. We have a librarian and our pupils do a fantastic job as library monitors.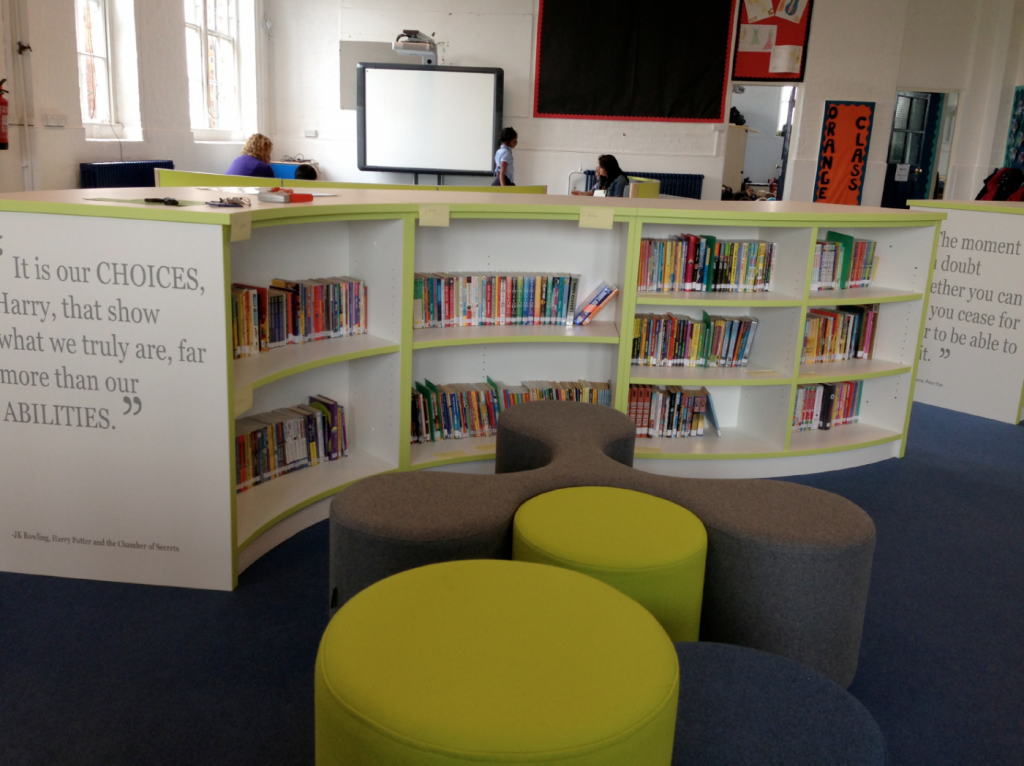 Our library is an integral part of the learning environment and is central to the life of the school, as well as in a physical sense being right at the heart of the building. It is designed for ease of access to all pupils. Our school library aims to contribute to our pupil's learning and development by providing a safe, stimulating and well-maintained environment which helps support teaching and learning and assists in our aim to raise achievement. As well as providing information for learning in a variety of formats, we also want our library to encourage a real love of reading for pleasure to develop readers for life.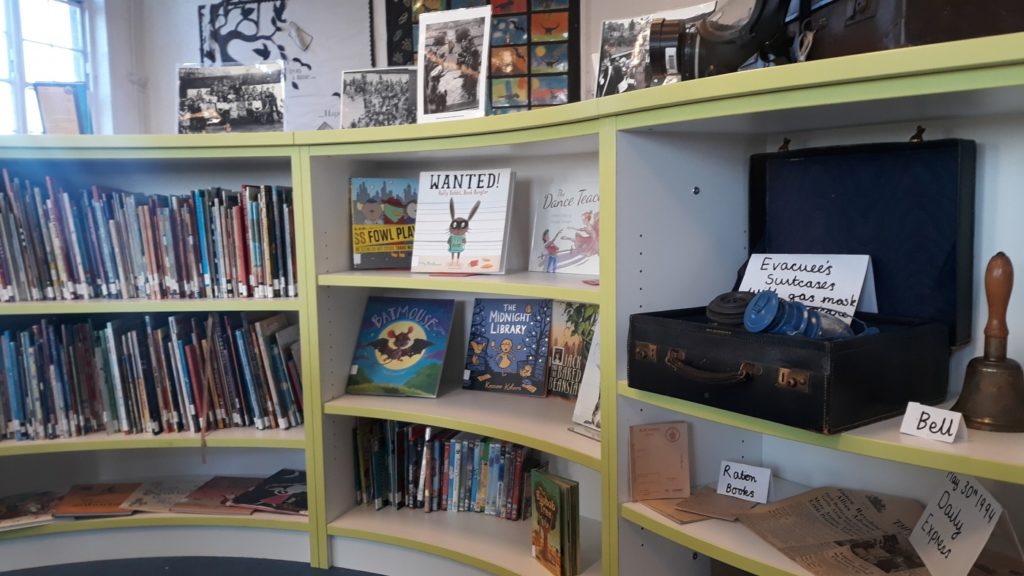 Through the use of our school library, we aim to improve reading skills and, in turn, improve both levels of attainment and progress in reading and writing. The books in our school library are kept up-to-date and relevant and relate to the topics studied in class. We are continually looking for new and exciting books to add to our collection.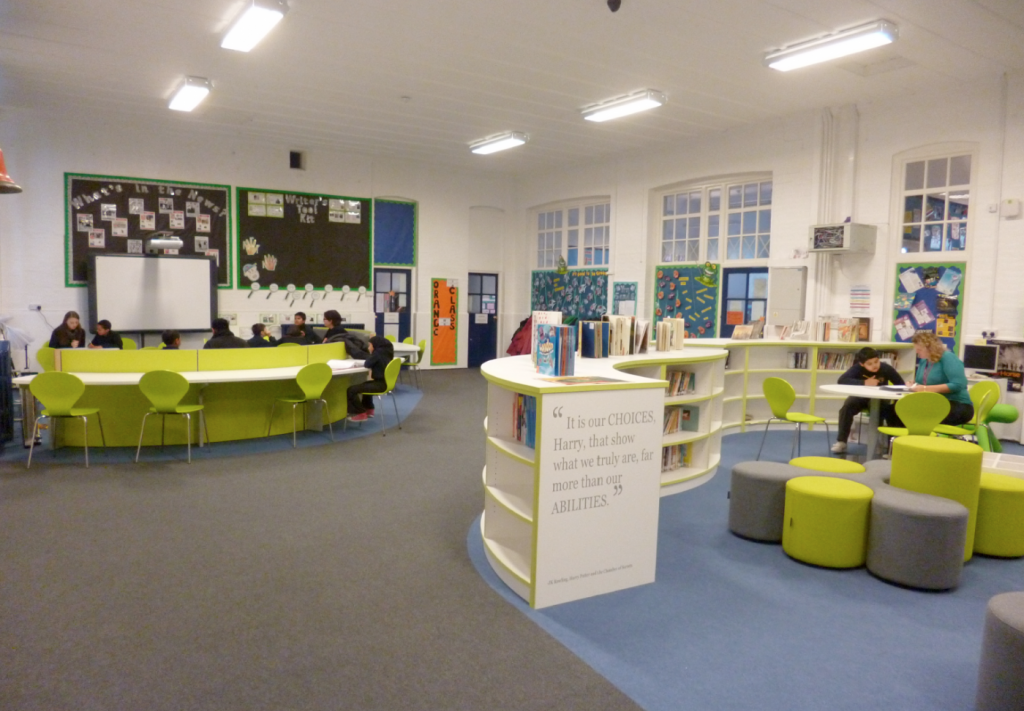 Writing
At Pakeman, we support children to become confident writers by providing exciting materials and opportunities. Our aim is for children to develop the stamina and skills to write at length, with accurate spelling and punctuation and a fluent and legible, cursive handwriting style. They are taught the correct use of grammar at each stage. Children are given the opportunities to write in a variety of genres, covering the full range of fiction, non-fiction and poetry and are taught to edit and redraft their writing for a range of audiences.
Through our use of high-quality texts and models of writing, we aim to:
inspire children to develop a variety of writing styles
promote enjoyment of writing
encourage children to make careful word choices
use writing as a means of effectively communicating their feelings, ideas and opinions
understand that all writing has a specific purpose and audience
Cross curricular literacy
English is both a subject in its own right and a medium for teaching. For children, understanding language will provide access to the whole curriculum.  We believe that fluency in the English language is an essential foundation for success in all subjects and our aim is ensure that all children can apply, practise and consolidate language and literacy skills in other subjects in a purposeful way.
Children's command of vocabulary is key to their learning and progress across the whole curriculum. Teachers will therefore develop vocabulary actively, building systematically on children's current knowledge. We believe it is particularly important to introduce children to subject specific language, such as accurate mathematical and scientific vocabulary.
We recognise using ICT can provide children with additional learning hours and support them in practising and consolidating their learning from school.
Working with Others and Broadening Experiences
Throughout the school year, we run a range of literacy events to promote reading, writing and speaking across the school. These include: World Book Day, Book Fairs, Bring a Parent to School Events and Stay and Read sessions, as well as a range of performances.  These events help to promote happiness and well-being, the development of key skills and enable us to work in partnerships with others. Please check the school calendar for any upcoming events.
As part of our work with other local schools, over the year children in KS2  take part in collaborative reading and writing projects, such as Writing through Film, Writing through Art and a Poetry Competition. We regularly work in partnership with other experts and organisations to enhance our literacy provision. For example,  the 11 x 11 project which aims to increase children's cultural experiences, our Shakespeare workshops with The Young Shakespeare Company, storytelling experiences, visits to local theatres and performances in school and a range of projects around 'Bringing Literacy to Life".
Supporting Children at Home
Recommended Reading
2+ and Nursery Recommended Books 2+ and Nur
Reception Recommended Books Rec
Year 1 Recommended Books Year 1
Year 2 Recommended Books Year 2
Year 3 Recommended Books Year 3
Year 4 Recommended Books Year 4
Year 5 Recommended Books Year 5
Year 6 Recommended Books Year 6
Speech and Language Support
Children's speech and language skills develop at different rates.
Definition of speech, language and communication
Speech refers to:
speaking with a clear voice, in a way that makes speech interesting and meaningful
speaking without hesitating too much or without repeating words or sounds;
being able to make sounds like 'k' and 't' clearly so people can understand what you say.
Language refers to talking and understanding:
joining words together into sentences, stories and conversations;
knowing and choosing the right words to explain what you mean;
making sense of what people say.
Communication refers to how we interact with others:
using language or gestures in different ways, for example to have a conversation or to give someone directions;
being able to consider other people's point of view;
using and understanding body language and facial expressions, such as: knowing when someone is bored, being able to listen to and look at people when having a conversation, knowing how to take turns and to listen as well as talk, and knowing how close to stand next to someone.
Further information about speech and language expectations and support
This section of our website provides information about children and young people who may need some additional help with their communication, some signs to look out for and some ways to provide further help.
Universally Speaking (birth to 5)
This publication provides information about what helps children learn to talk and listen, whether they are on the right track and what to do if you have concerns.
Universally Speaking (5-11)
This publication provides information about what helps children learn to talk and listen, whether they are on the right track and what to do if you have concerns.
Primary Milestones Poster – What's typical talk at primary?
This poster identifies milestones that primary aged children are likely to be at with their communication.
Don't Get Me Wrong
This is a follow-on publication from Misunderstood, looking in more detail at speech, language and communication needs and giving further support and guidance.
Misunderstood
This publication explains what speech, language and communication needs are and included advice and guidance on how to support communication development.