Mathematics teaches children how to make sense of the world around them through developing their ability to calculate, reason and solve problems.
Mathematics is essential to everyday life, critical to science, technology and engineering, and necessary for financial literacy and most forms of employment. A high-quality mathematics education therefore provides a foundation for understanding the world, the ability to reason mathematically, an appreciation of the beauty and power of mathematics, and a sense of enjoyment and curiosity about the subject.
We aim to support children to achieve economic well-being and equip them with a range of computational skills and the ability to solve problems in a variety of contexts.
Aims
The national curriculum for mathematics aims to ensure that all pupils:
Become fluent in the fundamentals of mathematics, including the varied and regular practice of increasingly complex problems over time.
Reason mathematically by following a line of enquiry, understanding relationships and generalisations, and developing an argument, justification or proof using mathematical language.
Can solve problems by applying their mathematics to a variety of problems with increasing sophistication, including breaking down problems into a series of simpler steps and persevering in seeking solutions.
At Pakeman we have been delivering the new maths curriculum since 2014.  Click here to see the progression overview for Years 1 to 6, which states what the children will be learning in maths in their year group, what they learnt in the previous year and what they will be learning as they continue their school journey.
In addition, in order to support the children's development in numeracy, we have introduced a variety of exciting resources to help motivate, support and challenge pupils in mathematical concepts.
Mastery
At Pakeman we teach pupils to master the skill of mathematics. Mastery means having a secure understanding of mathematical concepts and processes, combined with a genuine procedural fluency. A child who has mastered a particular skill is able to apply their understanding and solve different types of problems, including where the skill is either embedded in a different context, or where a choice of method has to be made.
Some children will be able to achieve mastery at a higher level. This means that they are able to apply their understanding of a concept in a wider variety of contexts, some of which are more difficult. They can manipulate the facts they know and the skills they possess in order to solve more complex problems. More developed forms of mathematical reasoning are central to this process, and enable the recognition of a link between operations and processes.
Numicon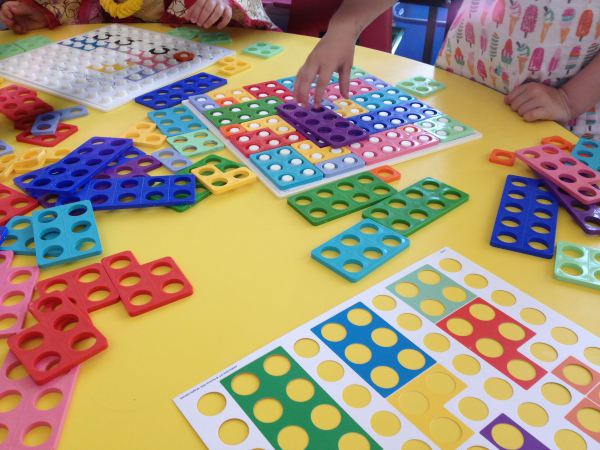 Numicon is a multi-sensory approach, built on a proven pedagogy that raises achievement across all mathematics ability levels. With problem-solving, reasoning and conversation at its heart, Numicon perfectly embodies the aims of the Primary National Curriculum 2014 for mathematics as it:
Develops fluency by using a visual, practical base to develop conceptual understanding and fluent recall.
Helps children to reason mathematically through the use of concrete objects and spoken language to explain and justify.
Develops children into confident problem solvers.
Mathletics
Mathletics is an online resource that helps children to enjoy maths and improve their results. Every student at Pakeman receives a login card so they can access mathletics at home. Please encourage your child to use mathletics and improve their maths skills.
Click here to find out more.
Abacus
We have signed up to Abacus, an active learning online toolkit, which has been designed for both teachers and pupils, and has been carefully crafted to support the new primary maths curriculum. Pupils receive a username and password so they can access all the fun and engaging games to support their learning at home.  Click here to log in to your active learn account.
Supporting your child at home
To support your children at home you can access the KS1 curriculum overview by clicking here and the KS2 curriculum overview by clicking here.  These give step-by-step instructions on how the maths curriculum is taught at school.
Mental Maths
At Pakeman pupils practise mental maths on a daily basis. In Foundation and KS1 teachers use '5 minute fillers' to embed mental maths concepts, and in KS2 'Quick Maths' activities are used to ensure they have a solid bank of number facts.
Times Tables
To help your child learn their times tables at home, please click here.  All the children have log in details (usernames and passwords).
Our Maths Lessons
Learning Objectives and Success Criteria
At the beginning of each lesson the learning objective is shared. Children discuss what they need to do to be successful in their learning. Being aware of what they are learning to do keeps the children focused.
Learning
Children learn using objects, pictures and images. Then they move on to the abstract – working with numbers. Children say that working with images first helps them to understand what the numbers represent.
Talk time
All children have a talk partner with whom they bounce ideas off, discuss key concepts and problem solve. Children find the opportunity to talk and discuss their mathematical thoughts a valuable part of the lesson and their learning.
Self Assessment
Children are asked to make thoughtful assessments of their learning. They constantly assess their learning to ascertain whether they need support or are ready to challenge themselves. Children self-assess their work against the success criteria which helps them to identify any barriers to learning. Children take ownership of their own learning and our classrooms are full of independent learners! Ask your children about their 'Learning Lights'.
Plenary
The plenary usually consists of a problem solving task or word problem which involves using and applying what they have learnt during the lesson. Children enjoy applying what they have learnt to real life situations which helps put their learning into context and makes it purposeful.
Problem Solving
Problem solving is taught on a weekly basis with children working in groups to develop their team building skills and to apply mathematical concepts in a variety of contexts.
Chilli Challenge
Chilli Challenges have been introduced, to extend and challenge pupils during maths lessons. The aim of this is to give the children an opportunity to master maths at a higher level, in the process developing their problem solving and reasoning skills.
Intervention Groups
In all our classrooms at Pakeman we have amazing teaching assistants who support children with their learning.
Children who have gaps in their knowledge are supported through our intervention groups and boosters before and/or  after school.
We also provide intervention groups for our more able children. These small groups challenge, stretch and extend pupils in their maths skills.
Times Tables
We expect all children at Pakeman to have a secure grasp of the multiplication tables. Just like learning to walk before you can run, learning multiplication and memorising the times tables are building blocks for other maths topics taught in school – higher learning such as division, long multiplication, fractions and algebra. Students who do not memorise the times tables will find these levels of maths much more difficult than they need to be. Students who have not mastered their tables will very often fall behind in maths (and other subjects that use maths) and begin to lose confidence. We ask parents for support in helping their children to learn the multiplication tables.
Below are some useful links to help your child practise their times tables.
Online Interactive Times Tables Tester
Parent Information Leaflets
Non-negotiables are the National Curriculum's minimum age related expectations for a specific year group. With the significant changes to the National Curriculum and assessment guidelines as of September 2014, each class has now been given age related objectives that they need to reach during the academic year. The teachers and children use these as one of the tools to help discuss individual's progress and levels of attainment.
Click below to view the non negotiables  – a range of targets that must be achieved by each child by the end of the year.
Parent Leaflet – Reception
Parent Leaflet – Year 1
Parent Leaflet – Year 2
Parent Leaflet – Year 3
Parent Leaflet – Year 4
Parent Leaflet – Year 5
Parent Leaflet – Year 6