We are absolutely delighted that Pakeman has been awarded National Primary School of the Year in the Pupil Premium Awards 2013. This was in recognition of the outstanding achievement and progress made by our children.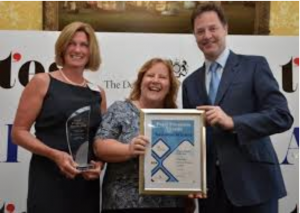 Excerpt from Primary Teach Magazine – October 2013 Issue 7.7:
Armed with the Pupil Premium and a willingness to go an extra couple of miles to make a difference, staff at Pakeman Primary School in Islington are tackling the inequality of opportunity present in their local community to life altering effect, says Jacob Stow……
…….if Nick Clegg were to seek proof that one of his party's flagship policies was having its intended impact, he needn't look any further.
Please click here to see the article in full
Excerpt from Islington Gazette July 2013:
Teachers and schoolchildren were this week "lost for words" at being crowned the best primary school in the country for the way it makes use of the Pupil Premium – extra Government funding targeted at disadvantaged children. In May, Pakeman Primary School was announced the best school in London after the regional round.
But this week, the school in Hornsey Road, Holloway, was crowned national champion by Deputy Prime Minister Nick Clegg at a prestigious ceremony, receiving a trophy and £10,000.
Mr Clegg, who spearheaded the Pupil Premium scheme after announcing it in 2010, paid tribute to the "creative" way Pakeman has used the funds to transform lives.
He added: "It's head teachers at schools like Pakeman Primary who are working hard to come up with ideas to make a real difference to pupils, so it's great that we are recognising what works best."
About 70 per cent of Pakeman pupils qualify for free school meals under Government rules, meaning the school will this year receive more than £200,000 extra.