Classes in Years 3 and Year 4 recently joined an inter-school Zoom session with Smriti Halls, the author of Rain Before Rainbows. The children learnt about all of the different stages involved in producing a picture book and Smriti explained what had inspired her to create this particular book. At the end of the session the children also had the opportunity to ask Smriti lots of questions about what it is like to be a professional author.
Rain Before Rainbows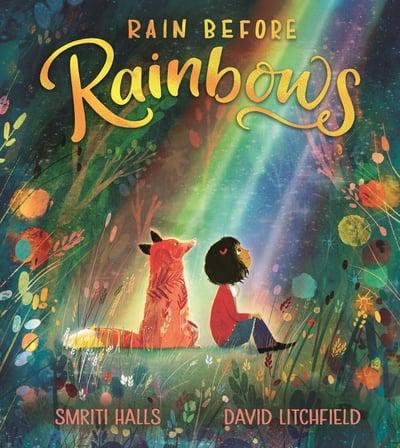 Earlier this year, publishers Walker Books released Rain Before Rainbows ahead of its publication date as a free eBook. This was to raise awareness for Save the Children's 'SaveWithStories' campaign, which is helping children most affected by the coronavirus pandemic. You can listen to the book being read by read by Stanley Tucci as part of this campaign. Rain Before Rainbows is now also available to buy in hardback. The rainbow has become an incredible symbol of hope and optimism during this time and here at Pakeman we have taken the theme of hope to produce a great deal of wonderful topic work.  Hopefully you find this this uplifting story to be a source of comfort and light.  To listen to the story click the link:
https://stayhome.walker.co.uk/rainbows/
About The Author
Smriti Halls is an award-winning children's author. She writes about a whole host of characters including a mischievous monster and disgruntled geese. She explores relationship and identity.  Her books, are often funny and always full of hope.
Smriti works with the Bedtime Stories Prison Project, helping parents in prison stay connected with their children at home through stories.  She is currently BookTrust's Writer in Residence.
Smriti lives in London, near Richmond Park with her husband and their three sons.  She loves reading, writing and eating iced buns.
'Smriti'
Her name Smriti comes from the ancient language, Sanskrit, and means remembrance – or memory.